Profile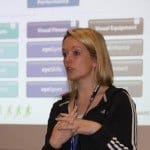 Zoe Wimshurst
Curriculum Vitae
Education:

Horndean Community School and Sixth Form college, University of Surrey, Loughborough University

Qualifications:

9 GCSEs, 3 A'Levels, BSc Psychology, MSc Sport and Exercise Psychology, PhD Psychology

Work History:

University of Chichester, Solent University, British Olympic Association

Current Job:

Senior Lecturer at AECC University College

Employer:

I work as a Senior Lecturer at AECC University College which is based in Bournemouth. My main role there is teaching students all about psychology. It is a brilliant place to work as we have only started teaching Psychology and Sport Science recently which means I have been able to help design the courses from scratch and we have lovely small classes so I get to know all the students.

I also run my own company called Performance Vision Ltd which is where I do most of my work with athletes through. I started the company about 8 years ago as I realised there were no jobs doing what I do so I needed to create my own.
Favourite thing to do in my job: I get to work with really good athletes from lots of different sports which is brilliant fun

About Me

Chicken loving, cheese joke telling, chocolate eating scientist

Read more

I live in the New Forest with my husband, baby daughter, and three pet chickens. I also have another baby due to arrive quite soon so life is about to get even more crazy!

My favourite things to do are playing sport (especially hockey) and eating (especially chocolate). I also like watching rubbish TV and reading murder mystery books. I love cheese jokes – my current favourite it 'what do you call cheese that doesn't belong to you?', 'Nacho cheese'.

My Work

I work with athletes to help them see things more quickly so they have more time to make better decisions

Read more

I trained as a Sport Psychologist because I wanted to help make people better at their sport but soon realised that the part of sport psychology where you sit down and are nice to people isn't really suited to me! I like doing experiments and finding things out so I started to research into where and how really good athletes look and whether this is something that can be trained. It turns out that you can improve the visual system (eyes and brain) and by improving this you can make people better at their sport – so this is now what I do!

There are three main parts to my job now:

I work at AECC University College where I teach on the Psychology and Sport Science courses
I carry out experiments to keep finding out more about how the eyes and brain work together and how this can be used in sport
I work directly with athletes from lots of different sports to help them be able to use their vision to become better at their sport.

When working with athletes I am really lucky with some of the sports people I have been able to work with. Here is a video clip of a tv show I made with Cristiano Ronaldo

I also work with drivers from Formula 1, premiership rugby players, premier league football teams and loads of Olympic athletes. As well as sports people, my research also applied to the military and anyone who needs to make quick decisions based on what they are seeing in a short amount of time.

Here are some pictures of the athletes I work with training their vision

   

My Typical Day

Varied!

Read more

I travel all around the country (and sometimes, the world) to work with athletes which can mean getting up early and driving a long way. I have to pack up all my equipment to take with me so have to be organised and plan in advance. I have about three diaries to make sure I know where I need to be each day and what I have to take with me so I can get it all packed up the night before and be ready for whatever the day has in store. 

Each day can be very different. For example, this week I am spending Monday going to see a Formula 1 racing team where I will be filming some videos to send out to young drivers to teach them how to use their vision to be better drivers. On Tuesday I am at University doing some teaching to Sport Science students and also writing a book. On Wednesday I am going to work with a cricket team to help them understand more about where they look when they are playing. Thursday I am at a conference presenting some research I have done so I will have to stand in front of lots of people and talk about my work. And finally on Friday I am on a hockey camp to teach young players about using their peripheral vision and reaction speed to help them work as a team. This weekend I have no work planned but will try and watch some of the teams and players who I work with so I can see if they have learnt from what I have taught them and see what needs to be worked on more next time.

I am really lucky to have such variety in my work – no two days are ever the same!

What I'd do with the prize money

A sport psychology podcast for school pupils

Read more

I would like to start a podcast aimed at school students all about sports psychology. It would combine looking at research and also how it is applied so would hopefully be of interest to students who are interested in studying about sports, but also young athletes who might want to learn more about their own performance. I would like to get on experts in different areas of sport psychology to talk about their own work – but without all the fancy words that can make really simple things sound overly complicated.

The money would go towards buying the equipment necessary to record a podcast and promote it within schools.

My Interview

How would you describe yourself in 3 words?

Sport loving geek

What or who inspired you to follow your career?

My parents. My dad is a brilliant hockey coach and my mum runs her own business so I think I combined some of their skills. They always supported anything I wanted to work towards and still do now.

What was your favourite subject at school?

PE - except swimming, I was always rubbish at swimming

What did you want to be after you left school?

Anything to do with sport

Were you ever in trouble at school?

Not really. If I do something I know is wrong it makes me feel sick so I try and avoid that feeling!

If you weren't doing this job, what would you choose instead?

I would like to be a lawyer because I think I am good at arguing with people

Who is your favourite singer or band?

Not my favourite but the song I listen to most at the moment is Baby Shark because my daughter loves it!

What's your favourite food?

Chocolate! And Chinese take away. And roast dinner. And cheese. I really like food! Except mayonnaise which I have a weird phobia of.

What is the most fun thing you've done?

I went travelling around the world on my own for 8 months and during that time I went scuba diving and jumped out of a plane. I also visited where they film Neighbours in Australia and met Dr Karl which was amazing!

If you had 3 wishes for yourself what would they be? - be honest!

1. All the chocolate with none of the calories. 2. Happy, healthy family. 3. More time for sleeping and generally slobbing out

Tell us a joke.

What does a cheese say when it looks in the mirror? Halloumi!
---
---
---