Profile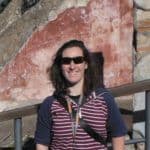 Claire Greenwell
Curriculum Vitae
Education:

Mark Rutherford Upper School, Bedford, then Cambridge University, now Southampton University

Qualifications:

I have an MSci in Natural Sciences. A levels in Maths, Physics, Chemistry and Further Maths.

Work History:

Before starting my PhD I worked at the National Physical Laboratory.

Current Job:

PhD student

Employer:

University of Southampton
Favourite thing to do in my job: Make a really pretty graph.

About Me

I'm a PhD student at the University of Southampton looking at how to find super massive black holes.

Read more

I live in Southampton with my girlfriend. During the week I play around with python programming and astronomical data, and at the weekend I'm involved in mediaeval reenactment. I like to read – a lot of science fiction and fantasy, but I'll give anything a go!

I identify as gay, female  and my preferred pronouns are she/her.

After university I worked as an optical calibration scientist for a few years. I did a lot of fun and interesting things there (and a lot of sitting in pitch dark labs!). Last year I decided to go back to university and study for a PhD.

My Work

Research into super massive black holes.

Read more

I'm studying for a PhD in Astronomy at the University of Southampton. What this means is that I have four years to learn as much as I can about something interesting, then write a thesis – basically a short book – on it at the end. My chosen subject is "obscured AGN" – Active Galactic Nuclei – these are the super massive black holes at the centres of galaxies.

When a star a bit bigger than our Sun dies, it can collapse into what's called a black hole – a bit of matter so dense that not even light can get away from it. There are quite a lot of these (about 10 times the mass of the Sun) around, but the ones I'm looking at are around 1,000,000,000 times bigger than these. They exist at the centres of galaxies. We call them "active" when these black holes pull so much matter in that they also shine incredibly brightly.

Everything in space is so far away that whatever we study, we're looking at it as it was in the past because the light takes so long to get here, and through all the dust and gas in between. This makes some objects really dim and hard to find, but they can be the most interesting. The black holes I'm looking at are the ones that are very bright, but also really hidden.

My Typical Day

Mostly in front of a computer!

Read more

My typical day is quite varied! Most of my PhD work is computer based, so I'm at my desk (check out the pictures in the work section for what I'm probably looking at!). We also have lots of talks from scientists who work here, and some visiting from other places, so I always go and listen to find out what's happening. I also help out with teaching the undergraduates, so some days I go and help them with their homework or programming labs.

What I'd do with the prize money

Encourage young people to get into Stem.

Read more

Honestly I don't have a specific plan yet, but what I'm really passionate about is encouraging people who would perhaps have felt that physics at university isn't going to be welcoming for them (e.g. female, BAME, not straight…). Diverse groups have diverse ideas, and thats what leads to great science.

My Interview

What or who inspired you to follow your career?

I went on a physics taster week when I was in sixth form.

What was your favourite subject at school?

Maths.

What did you want to be after you left school?

A scientist!

Were you ever in trouble at school?

Never seriously.

If you weren't doing this job, what would you choose instead?

When I was little I wanted to be an archaeologist.

Who is your favourite singer or band?

No specific one, but I like folk, and alternative rock type stuff.

What's your favourite food?

Anything sweet.

What is the most fun thing you've done?

I was lucky enough to visit Iceland a couple of years ago, and it was stunning.

Tell us a joke.

How do you eat a Welsh cheese? Caerphilly.
---
---